Hundreds of baseball recruiting and training events run every month. While many of these events are geared towards college students, some, like showcases and college baseball camps, are designed to help high school students grow and succeed.
But many parents wonder whether these events are really worth it, since college baseball camps similar to showcases. This leads many parents to toss emails or mailers that they receive about these events.

Before you throw out another email, read further to learn the differences and similarities between  baseball showcases and college camps.
Later you will learn how to best make use of both types of events.
So let's start by figuring out what these two events are.
What is a Baseball Showcase?
Baseball showcases are events where you and other participants play baseball to show off your talents. Oftentimes these events are attended by coaches from various colleges and universities around the country as part of their recruitment efforts.
These events are demonstrative, which means that the focus is less on learning new skills and techniques and more on applying your knowledge and talent on the field.
Are they worth your time?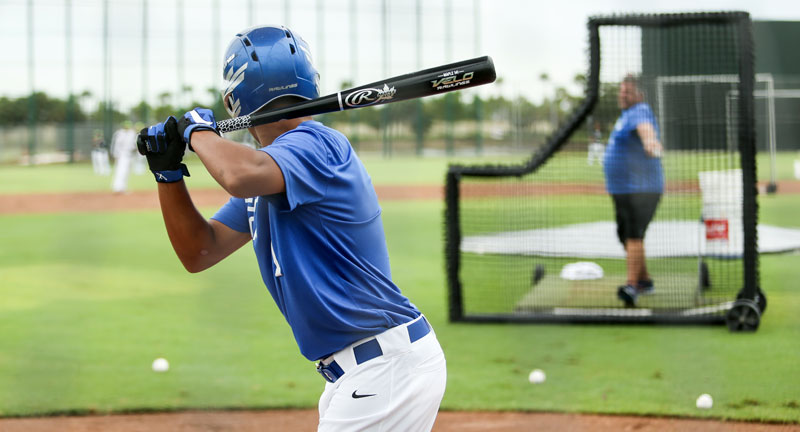 For many parents, this is where they decide that showcases are not right for their children. But did you know that this is still an excellent teaching opportunity?
While showcases often lack direct instruction, these events do often result in valuable feedback. They are also a great way for coaches to see you first hand, rather than through carefully edited recruitment videos.
With all these potential benefits, it is an easy recommendation for athletes to participate in showcases at least once or twice a year. But then you come to the problem of choice.
But there are too many options? Which ones should I go to?
Between all 50 states, there are dozens to hundreds of showcases going on in any given month. So while it's impossible to recommend just one or two, we can provide handy tips that will save you money and time.
Three important considerations when choosing a Showcase
Select showcases that list the schools or coaches who will be participatingIf you confirm that a coach from a university of interest will attend a showcase, then participation is instantly worth your time. Because not only will you be seen by your preferred university, but you can gain direct feedback.Even if you aren't certain of which school you're interested in, choosing showcases that confirm specific universities attending their event is also a sign of potential exposure.But what do you do if a showcase has the perfect location and dates, but no attendance confirmations? You could either skip these showcases, or contact the host organization to see what's going on.

Only select events that are outside of the NCAA quiet or dead periods

NCAA rules prohibit coaches from contacting students during certain periods of the year. The intent is to protect children and family from harassment.

But this does mean that during these periods, showcases hold far less value than they normally would. Even if you find a showcase that interests you, be sure to compare it's dates with the NCAA recruiting calendar before you sign up.

Here is the recruiting calendar for 2018,

National showcases can be more worth your time

While this is not a hard-set rule, the idea behind it is simple.

Showcases that hold multiple events per year all around the country are often in communication with more universities. This is because a traveling showcase is easier to visit for coaches and parents alike than one that is only in a specific location.

But as always, be sure to compare the dates to the NCAA recruiting calendar and double check to see what universities have confirmed participation.
To tie it together, we'll look at five of the largest showcases to see how they stack up to these tips.
Five of the Largest Showcases in the US

All-Star Baseball Academy
The All-Star Baseball Academy hosts several showcase tournaments that look to be promising ways to compete and show off. The unique part of this showcase event is that each event takes place at a university.
This is an example of a showcase camp that is ideal for athletes who have a specific university in mind.
After all, is there any better way to gain recognition from a university than playing at their campus? This has the added benefit of making it easy to check out the campus, since you'll be there already.
Space is limited at some of these events, so be sure to check out their website to learn more.
Prep Baseball Report
Prep Baseball Report, or PBR, hosts several showcase events that run across several states in the United States. These events sometimes run in multiple locations on the same day.
One unique thing is that it has a broad approach to event types and locations. This means that you will have an easier time of finding the right showcase for you. It also provides a professional stats page that you can show to recruiters.
To check out their past and upcoming showcases and events, be sure to check their website.
Best in the US Showcases
Best in the US Showcases holds fewer events than Prep Baseball Report, but these events are scattered across the year and across the country, making it just as easy to plan around your schedule and location.
The key difference between this and PBR is that Best in the US Showcases makes it easier to determine who will be in attendance at every event. When you click on an event, you'll see the names and universities of attending coaches, which makes this an easier recommendation.
To learn more about their events and attending coaches, check out their website.
Headfirst Honor Roll Camps
Headfirst Honor Roll Camps has a list of showcases that, at the time of writing, are primarily on the west or east coasts of the country with most of their events in California, Florida, and New York.
Much like Best in the US Showcases, this organization lists the colleges and coaches who will be in attendance at every event. You will also appreciate how clear this website is on availability, with percentages and exact numbers of spots available being listed for their upcoming events.
To learn more about this organization, check out their website.
Perfect Game
Perfect Game provides a wide variety of showcase events across the country, and has events posted for nearly every month from now until January at the time of writing.
This makes it a wonderful tool for parents and athletes who want to plan ahead on how to best use their time in competition.
One of the most unique parts of this organization is how it lists the commitments that many of their participants have made for college baseball. This is a great way of providing proof that participation can help you excel and succeed.
To see what they have to offer, here's a link to their website.
By now you have a great idea of how or why you would want to invest in a baseball showcase event. But we still haven't gone over how this compares to a college baseball camp.
So what are College Baseball Camps?
We already discussed how showcases are demonstrative. College Baseball Camps are different in that they are instructive.
This means that you'll be working on skills with the help of instructors, coaches, and trainers. These camps conclude with a stat or skill report that highlights your strengths and weaknesses and anything else that you need to know.
Much like showcases, this is also a great opportunity to make contacts and gain exposure. But the major differences lie in who runs it and it's location.

You can guess that College Baseball Camps are run by the universities themselves, with campus coaches on hand to provide support, guidance, and direct instruction. If you are serious about your baseball career, you may have received an invitation to one of these camps and already heard about the above benefits.
We mentioned earlier that many parents view college baseball camps as a safer bet to winning recruitments, but there are a few things that you have to know.
Invitation does not equal recruitment

NCAA rules mandate that college camps have to be open to anyone. So these camps are usually first come first served, rather than exclusive access. Invitations usually come as a result of contact information given to them after you signed papers at an event.

College camps are intended to help find talent, but they are also there to earn money for the university. To help with both of these goals, universities need to fill their camp space and that means more attendants than possible recruitment slots.

Your participation does matter

While college baseball camps are a money making opportunity for the university, they do find talent that they want to pursue. So if you perform well and impress, then coaches will do everything that NCAA rules allow to ensure that you know about it.

Even if you don't perform well enough to impress a coach, the feedback and instruction you gain will help you improve. Many student-athletes find that after their attendance at a camp, they stepped up their game and earned a recruitment.

It is a great chance at finding feedback

Coaches will talk with you if you impress them, but if you don't stand out enough, then you should ask why. The coaches response or lack of response is feedback that will help you.

You will likely understand where you could have improved, where your strengths and weaknesses lie, and might get some tips on how to overcome your flaws.

There is more competition than you will see at the event

There is limited space at any college baseball camp. But the space available is a drop in the bucket compared to how many students apply for the same roster slots at a university.

While you have the advantage of playing in front of the coaches you're interested in, you are always competing with other players that you may never see in person.

Different camps, offer different perks

Some baseball camps offer their own equipment while others ask that campers bring their own. Some camps welcome students to stay in dormitories, while others require you to commute from an off-campus location.

Be sure to ask what benefits a camp can offer you before you sign up.
If you are interested in a College Baseball Camp, you are likely interested in learning from and interacting with a specific university. You may still be wondering what you can possibly expect and what the atmosphere will be like.
Let's look at ten different university College Baseball Camps to answer these questions.
Ten Amazing Baseball Camps

Titan Baseball Academy
State University in Fullerton may not be one of the more famous colleges, but it is a recognized name in Baseball. This Division I team is consistently high in the rankings, making their annual summer Baseball Academy a popular option.
This camp is designed to help find top-level prospects who could join on this winning team and provides supervision and individual instruction in all forms of positional play.
You can learn more through our write up, here.
LSU Baseball Camps
Louisiana State University hosts baseball camps that are often led by the university's head coach. The camps host day-long programs that will test your abilities in areas such as the 60-yard dash, batting practice, and a defensive evaluation.
The program traditionally ends with a full 12-inning game. Players sign up for the camp according to their position.
We have more information about this camp ready for you at this link.
Jim Schlossnagle Baseball Camps at TCU
The Jim Schlossnagle Baseball camps are designed to help you improve regardless of your current age or skill level. Participants receive direct instruction from the top coaches in the country with the goal about bettering you as a player.
This camp only has restrictions based on number, age, grade level, and/or gender, but is otherwise open to anyone and everyone.
For the best information about this camp, be sure to check out our discussion here.
Arizona State Baseball Academy
This camp boasts that it offers opportunity for players to receive instruction on baseball fundamental skills. Their curriculum promises that campers will learn what characteristics define successful baseball players.
As part of this program, it hosts games between campers after drills are performed, to give you instruction and hands-on experience with the skills it teaches.  Arizona state does a good amount of recruiting through this annual academy, making this a worthwhile investment.
But you can learn more about this prospect camp with our article, here.
Duke Baseball Camps
This camp, hosted on campus of Duke University, provides a wide range of camps. Head coaches and staff are present for all camps and take pride in quality instruction. The goal of the camp is to provide a 1 to 8 coach to camper ratio, which makes it very easy for campers to receive individual assistance as required.
These camps have the goal of building on baseball fundamentals and enhancing the confidence of individual players with it's attention to detail and safety.
You can find our review of this camp, here.
Monte Lee Baseball Camps At Clemson University
Clemson University hosts a baseball camp that is designed to improve your performance at the game. It caters to all ages and skill levels and promises direct instruction from top level coaches, with the goal of having camps that can fit your needs.
At present, their website encourages that you check back often if they have dates that don't meet your scheduling needs as they update their site regularly with new sessions.
So it's definitely worth checking out. You can learn more from our own write-up.
Vanderbilt Baseball Camps
Vanderbilt University is a solid, high ranking program that excels year after year. This makes spaces at the Vanderbilt Baseball camps hotly contested.
Like Duke, this camp ensures individual attention is given by working towards a one coach to eight player ratio for each camp. The camps provide instruction in positional play and strategies as well as offering strength and agility training geared towards building baseball match fitness.
You'll see the difference when you read our information about this camp, here.
Greg Lovelady Baseball Camps
The University of Central Florida provides a great camp where you'll work with the entire UCF baseball coaching staff.
The Greg Lovelady Baseball Camps works to provide individual instruction for your position. They will do this, by providing drills and competitive atmosphere that is intended to make you perform better at the more intense collegiate level of play.
The Top Prospect camps provide instruction for grades 9-12.
You can learn more about this camp, by following this link.
Carolina Baseball Camps
The University of North Carolina's camps are recommended for serious players who want to play at the collegiate level.
These camps are designed to challenge participants and push them towards their true potential. For this reason, the curriculum is focused on fundamentals.
To read about the Wolfpack's camp, take a moment to read this page.
If you are at all interested in participating in a college baseball camp, here are five ways to ensure that your time is well spent.
Five tips to maximize your showcase and college baseball camp time
Ask Questions

The first rule for any camper or showcase athlete is to ask questions.

Save time by finding out if you are required to bring your own equipment. Get feedback on your performance strengths so you can determine how to train. Learn about a university by asking about student life.

The more reasonable questions you ask, the more you look like a serious student-athlete which can put you on coach radars and keep you there.

So always ask questions.

Contact coaches before your show up

With so many other campers or participants to keep watch of, it's nearly impossible to expect coaches to 'discover you' on the field.

Unless you and a coach have a pre-built rapport, you need to make sure they know who you are so they can look out for you as you perform.

Whenever you are booked for an event, be sure that any and all attending coaches that you are interested in are aware of your presence before the event.

Keep a positive attitude

Showcases, tournaments, and baseball camps are hard. They are designed to push you from high school level athletics to the rigorous world of college baseball.

Unless you have experience, you may be overwhelmed by what you find.

But no matter what, you have to keep a positive attitude.

Showing that you can keep your head held high and that you are always willing to learn will make coaches more likely to notice and offer you extra attention or help.

Take care of yourself

Even with the best attitude in the world, if you underperform due to exhaustion or improper pre-exercising routines, then you will hurt your chances. Sluggishness from poor health decisions will also catch a coach's eye and won't help you find the top marks you want.

Even before you show up, you should start getting into the practice of a proper diet, sleep schedule, and workout routine. Even if you do have some bad habits, it's never too late to change.

Always take time to reflect

Whether you have completed an intense 5-day college baseball camp or completed a showcase event, you will have had experiences that will affect your growth as an athlete. To be sure that you take away the most out of these experiences, you have to be willing to stop and reflect on what you've learned.

Any athlete will tell you that the mental aspect of the sport is just as important as your physical training. Your ability to play well with others and build a rapport with your potential coaches are not the only important factors.

If possible, try and share your experiences with coaches, trainers, or fellow players.
Putting it all together
These events are intended to provide exposure and a high-level training experience. The core differences lie in whether or not direct instruction is expected during the event.
With showcases, you are showing off what you have learned and mastered. Baseball camps teach you the skills that will push you to excel at a showcase.
So really these two types of events go hand in hand at giving you a better chance at finding recruitments.
College Baseball Camps are a great use of your time if you want to play for a specific team. If you haven't made a definite decision, than performing for many coaches at a showcase, may provide better results.
There's also nothing wrong with participating in a baseball camp as well as a showcase. Be sure to discuss this option with your parents and coaches.